AN OCEAN OF LIGHT & ENERGY
A private home available for guests in search of a tranquil place to relax and reconnect with the core elements of nature. The Zen House is set in a simple and natural environment overlooking the sea, it is eco-friendly and it carries a holistic approach integrated with traditional elements from the diverse personality of the island of Crete.
Created to "inspire" and to "enrich", the space is designed to meet your personal needs; from relaxation, yoga and meditation to learning and healing through personal and bespoke wellness retreats, thematic workshops and special events.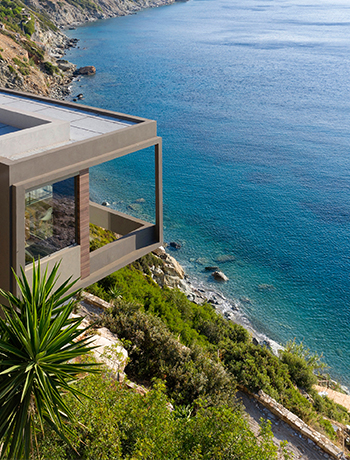 THE VIEW
The breathtaking view of the Cretan Sea carries our guests through time and space! The element of
...
water and the natural light penetrate the house from the earth to the sky.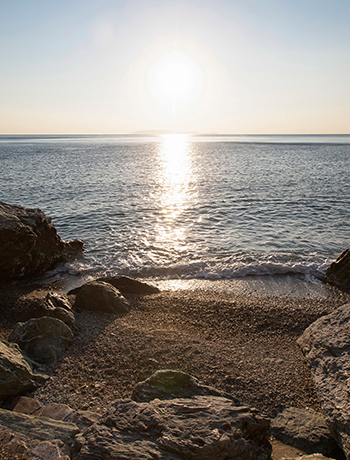 THE BEACH
Walking along the path and down the steps carved from the natural stone to the beach; a small,
...
private and peaceful paradise where you can find sun and shade, and in to the warm and crystal clear water of the Cretan Sea.
THE EXPERIENCE
The intention and energy of our spaces are designed to stimulate and allow for a holistic and
...
healthy lifestyle; supported by our choice of natural and sustainable materials and our green attitude. Traditional and organic products and ingredients inspired by local customs and the world-renowned Cretan hospitality alongside modern conveniences; resulting in a unique and warm Zen House experience.
THE HOUSE
Spread across two floors and designed for gentle living incorporating the natural light and view of the sea and the sky from every aspect of the house.
The upper floor features an open covered space which flows seamlessly through to the balcony and beyond into infinity. An ideal space to relax, connect and share. Simple, locally designed and made organic furniture and decoration, are arranged to easily transform the space from a relaxed and quiet living space to a tranquil yoga shala, with an integrated sound system and home cinema to compliment workshop and special event needs.
The kitchen is a free-flowing extension of the living room where cooking and gathering around the table is encouraged to create the sense and feel of a traditional Mediterranean family lifestyle. Traditional Greek coffee and family produced local products; olive oil, honey or seasonal fruits are often available on your table.
The house can host from 2 up to 6 adults and it is available for reservation as an entire villa.
ZEN HOUSE

THE ROOMS

The lower level hosts three bedrooms inspired by the natural elements of "Water", "Air" and "Earth". Two of the three bedrooms open out to the shared front balcony and the third has the same view as well as an outdoor space of it's own.

Each has a king size bed dressed with natural linens, an en suite bathroom with shower and naturally sourced products, cotton towels, robes and slippers. Each morning the sun awakes you naturally and at sunset, the sound of the sea accompanies you into the deepest of sleeps!

An espresso corner and a laundry area are located at the corridor connecting the rooms.

3 bedrooms villa

en-suite bathroom

panoramic view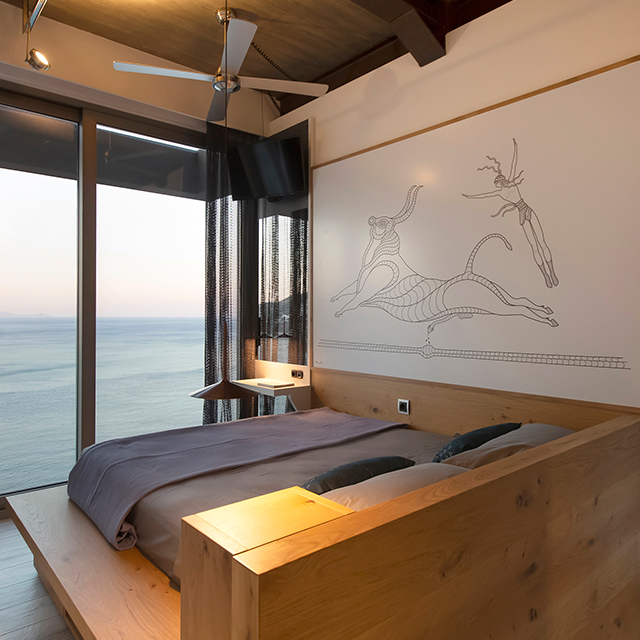 ZEN HOUSE

OUTDOORS

The garden at the bedrooms level features a further relaxation area with a small infinity pool alongside a dining little space positioned around an olive tree inspired by the concept of the "platia"; a village square typical of life in Greece depicting a sense of community and gathering whilst enjoying a Greek coffee or a sip of Raki whilst relishing the taste of home-grown olives and local delicacies.

The beach path, lined with local plants and trees, passing our tiny family-built church and home to our organically-reared chickens, down to sea level where a wooden deck gives the feeling of being on a ship deck; perfect for sunbathing or a morning yoga routine in reflection and peace.

wooden deck

sunbeds & yoga mats

private beach
ZEN HOUSE

LOCATION

All this in a private and secluded environment over-hanging a cliff of the Cretan Sea yet within easy reach (15km/30mins) of the international airport and capital city of Heraklion. The location combines the ideal contrast of the tranquility that one seeks in order to relax, reflect, study or practice, but still offering city life, historical sites, public beaches and mountain villages.

Easy access:

International Airport Nikos Kazantakis - 15km
Port (boats to Athens or Aegean Islands) - 12km
Knossos Palace - 18km
Lygaria Beach - 5km
Agia Pelagia Beach - 8km
Rogdia Mountain Village - 5km
Kitesurf spot - 10km
Surf-SUP spot - 24km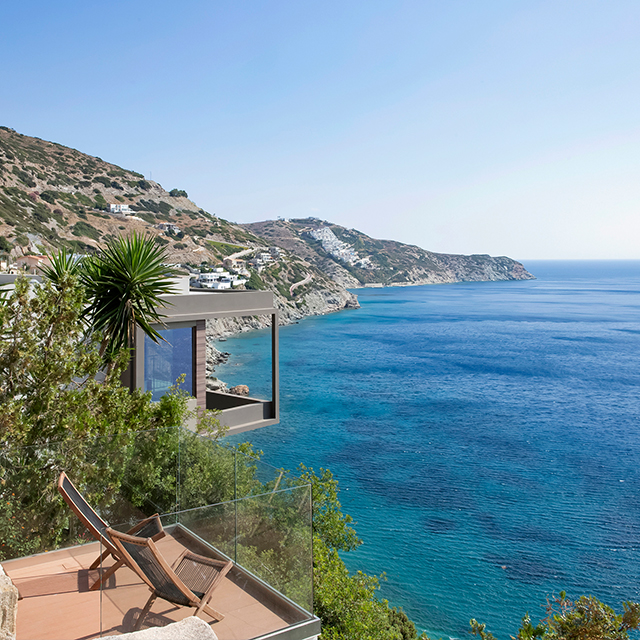 GET DIRECTIONS
ZEN BESPOKE EXPERIENCE
The energy, flow and atmosphere of our Zen House is ideal for small groups looking for bespoke and tailored stays including;
RETREATS
Ethically produced yoga mats and accessories and Tibetan singing bowls form already part of our core; yet we remain open. If you are an instructor, a therapist, a coach or a healer and you are keen to share your knowledge, thoughts and ideas to collaborate towards an environment to best meet your needs, please do get in touch to discuss how we can work together to create the spaces and services you desire.
WORKSHOPS
Our flexible spaces enable small private and professional groups seeking a bespoke programme to specialise, conduct or combine with relaxation, yoga, healing or healthy lifestyle and nutrition. Promoting personal and spiritual development and growth through individual and group activities including classes, demonstrations and workshops.
EVENTS
Ideal and adaptable for small events celebrating life's special moments; private dinners and parties, weddings and christenings, in the style and atmosphere you wish including tailor-made culinary choices and decoration.
ACTIVITIES
Zen House offers a full concierge service, helping to make your stay more enjoyable. From private transfers, bookings and reservations; to a wide choice of options for indoor and outdoor sports, healthy lifestyle and private tours, are available upon request (extra charges may apply).
CONTACT
tel. +974 55470069, +30 6976992399
Paleokastro, Crete, 71500, Greece
BOOK NOW